Once upon a time in Hawaii …
The champagne is no longer circulating in the blood, the sleep deficit is overcome and the head clear again. It's time for our gebioMized summary of the Ironman World Championship!
A summary with quite a lot of pretty bright light, after all we had "a hand in the game" with both winners in one way or another. So, first of all: congratulations to Anne Haug and Jan Frodeno for the sensational German double victory in Kona. But there was also some shadow, because not all athletes of the "gebioMized Squad" reached the finish line – or their goals. All the more they will already start focusing on the new season now. Cheer up, Patrick Lange, Patrik Nilsson and Franz Löschke: after Hawaii is before Hawaii. This also applies to us, of course. Since (very early!) Sunday morning the official 2020 Road to Kona is open – especially from a biomechanical point of view.
But first, let's review shortly the performance of our Hawaii finishers:
Anne Haug, 1st place, 8:40:10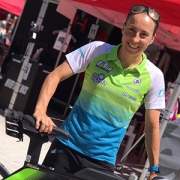 We're still speechless. Of course, we knew that Anne is really strong. And she proved that she can cope well with the island's conditions when she finished 3rd in 2018. But to be at the very top in Kona, everything has to be perfect. Her strong performance on the swim course already indicated that she had a good day. Thanks to her great form and also her very stable position on the bike she was able to stay in the top group on the bike and started into the final marathon on third position. Her personal best in the run shows that she was able to save important energy on the bike, which we also would like to give her new saddle credit for: the gebioMized Stride, which Anne turned into a world champion in its first really big race. Thanks a lot!
Jan Frodeno, 1st place, 7:51:13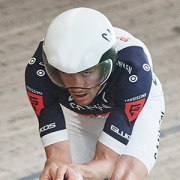 Frodo is back. And stronger than ever! After the injury-related compulsory break in 2018, he came back in a more than impressive manner and won his third title after 2015 and 2016 – and set a new course record in 7:51:13. From the first meters of the swim to the finish line Jan seemed very strong and showed top-class performance in all disciplines. Second athlete out of the water, he also showed a top performance on the bike and lost only about one minute to "Überbikers" like Cameron Wurf or Sebastian Kienle. This also shows how valuable a fast and constantly adapted position on the bike is. No matter whether in controlled phases or in the decisive attack in competition: Jan always sat very stable in the saddle and was able to hold the position for a very long time. No question: the man is exactly where he belongs.
Sebastian Kienle, 3rd place, 8:02:04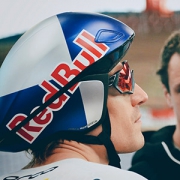 We assume that also Sebastian Kienle would have loved to celebrate his next Kona title. Of course, he was also one of our favorites for the win. He jumped on the bike almost five minutes behind the leaders, but he'd proved often enough that he can close such gaps. He did catch up on the first 100 kilometers on the bike and rode a much more stable position. In the past, he had to actively push his pelvis back again every few seconds with a "shift". This time he had to shift back only every two minutes – an enormous gain in stability that also saves energy for the run. Accordingly, Sebi not only rode the second fastest bike split, but also ran a really strong marathon and rewarded himself with a well-deserved podium finish.
Daniela Bleymehl, 9th place, 9:08:30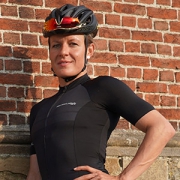 Someone had a score to settle with Kona! After battling with health problems three years ago, Daniela wanted to give it another go in 2019 and got rid of her Hawaii trauma. By the way, on her way to her strong 9th place, she and Laura Philipp rode the fastest bike splits on the glowing asphalt. She sensationally started the marathon on second position, even though she'd been riding a lot in the wind on her gebioMized Stride. Maybe she would have had some more energy for the run if this hadn't been the case. But after all, it is not a bad thing to have some goals left to achieve in the future.
Bart Aernouts, 9th place, 8:12:27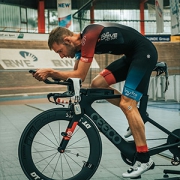 After second place last year, 9th place was probably not quite what Bart Aernouts had planned for in 2019. But after he came out of the water almost ten minutes behind the leading pack, the race was almost over for him. There was no chance of closing the gap on the bike and even for a strong runner like him he was simply too far behind to catch up in the marathon. Nevertheless, he fought his way to the finish. Respect!
Alistair Brownlee, 21st place, 8:25:03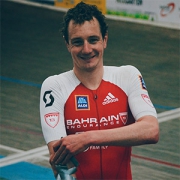 It was the first time that the Brit raced on Hawaii – and his learning curve was steep. The short distance world champion and Olympic champion came out of the Pacific with the top group and also kept up with them on the bike for a long time. Only when Jan Frodeno attacked on the last kilometers of the bike course, Alistair had to surrender before the "man with the hammer" finally hit him in the run. He had to pay tribute to the Hawaiian heat. But if he learns the right lessons from this, he will certainly be one of the top favorites next year.